Study Tours
We value our relationships with other cities and their leaders and thinkers. That's why, in addition to our substantial academic research agenda, the Committee believes in the value of on the ground, experiential research which enables us to learn from other cities around the world.
Committee for Perth CEO, Marion Fulker has undertaken a number of study tours to date, focusing on issues such as urban renewal, public transport, waterfront development, governance, cultural centres and experiences.
Reflections on Perth from afar - what can we learn?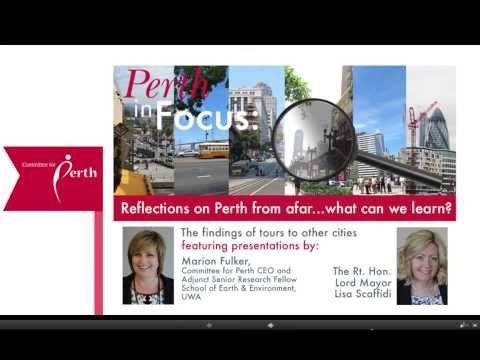 The following presentation was delivered by CEO Marion Fulker in October 2013 as she reflected on her learnings from her study tours and on what Perth can learn from the experiences of others.
Transport & Congestion
2011 Study Tour Findings
The Committee's CEO undertakes an international study tour focusing on light rail and reflects on the findings from 6 cities.
Study Tour Findings
PDF | 1.15 MB
September 2011
Perth @ 3.5 Million People
Study Tour Lasting Impressions 2013
From July to August 2013, CEO of the Committee for Perth, Marion Fulker, undertook an international study tour to examine how other cities were addressing a number of urban issues, including development around transport infrastructure and the important issue of affordable housing.
Study Tour Findings
PDF | 2.07 MB
August 2013
Search more documents in our library